Facebook adds another game to Messenger: challenge your buddies to shoot some hoops
1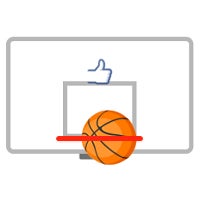 About a month ago, Facebook added
a couple of fun little features
to its Messenger texting app. One of them allowed you to share a random cute picture with your friends, by typing @dailycute into the chat, the other one let you challenge them to a clunky game of chess, by typing @fbchess.
Now, Facebook has expanded the hidden fun features of Messenger with a new one – shooting some hoops. This one doesn't have you punching in "@" commands, so it's a bit harder to find, but not at all complicated to activate.
To play, you just have to find the basketball emoji on your keyboard and send it in a message. From there, any of the chat participants can tap on the ball to enter the game. It basically requires you to flick the ball correctly to score points. If you miss a shot, your streak is reset to zero. Whenever you get a high score, the other chat participant will be notified of your great success.
Curiously, while testing, we found that some Facebook accounts don't get to play the game right now (we tested multiple accounts on a single smartphone). Perhaps it's a gradual roll-out, though we don't see why that would be the case. Still, it has some of us here in the office feeling left out.