FIFA World Cup 2014: Selfie edition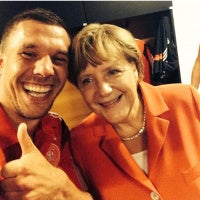 The 2014 FIFA World Cup is a celebration of the game of soccer (or football, if you prefer), but it is also an event that brings together millions of fans, celebrities, politicians, and all sorts of people from across the globe. And when those people mix with the actual footballers, and we add a little bit of technology to spice things up, you get some fun results. That's what happens this year with the boom in smartphones, that brings us the 2014 World Cup: Selfie edition.
The biggest star of the home team of Brazil, Neymar Jr., kicks off this selection of selfies with a picture alongside teammates, but then we also have Germany's biggest fan, chancellor Angela Merkel, pose with some of the players. Team USA was also visited by some high-ranking officials that gave their support - vice president Joe Biden in particular stepped in to the locking room, to congratulate the team on the first win.
You can find this and much more in the selection of selfies from the 2014 World Cup right below, take a look.