FCC's Mexican deal could help Sprint make a run for the border
3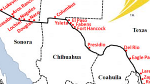 On Friday, the FCC and the Mexican government
reached an agreement on rebanding the 800MHz spectrum around the border
. The U.S. agency needed to make sure that reserve agencies had enough spectrum for the wireless puncture response team to be able to communicate without interference. the 800MHz deal replaces an expiring one, and allots segments between both countries. The agreement also lays down some parameters on how each country will handle its block of 800MHz spectrum within 68 miles of the border. FCC chairman Julius Genachowski was on hand Friday during discussions between the two countries.
"These agreements with Mexico will unleash investment and advantage consumers nearby a borders by enabling a rollout of modernized wireless broadband use and modernized systems for vicious open reserve and puncture response communications."-FCC Chairman Julius Genachowski
Additionally, the two countries agreed on the use of the 1900MHz band around the border which will benefit Sprint. The agreement will allow the nation's third largest carrier to offer
more CDMA service in the area
. The carrier was originally given some 1900MHz spectrum in the area back in 2004 as a payback for giving up its 800MHz pipeline in the area for another rebanding project.
source:
FinancialIQ
via
AndroidGuys