Exynos 5433 in the Note 4 is a 64-bit chipset, source code reveals
61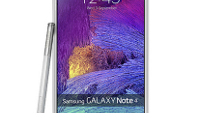 The
Note 4
would be the first 64-bit Android flagship, or at least that will go for its reincarnation with Samsung's own Exynos 5433 chipset. Just as suspected, despite that the naming scheme still puts it in the Exynos 5x family, the newest Samsung chipset is not a
Cortex-A15/A7
affair, but rather takes the next step in ARM's mobile architecture, by incorporating the
A57/A53 configuration
, as its source code reveals, which ARM touts as capable of 64-bit computing.
In all likeliness, the Note 4 sports precisely the latest and greatest
Exynos 5433
, despite that Samsung hasn't officially revealed the silicon, and just writes "1.9 GHz octa-core processor" in its specs. It is therefore shaping up to be the first Android handset with flagship specs that will cross over into the 64-bit barrier, at least on paper. As for the GPU, it is probably ARM's latest
Mali T760
, clocked at the astounding 700MHz, which would add to the
benchmark-busting performance of the Note 4
equipped with said Exynos.
Why isn't Samsung advertising that fact, one would ask? Well, before
Android L
ships out, and there are apps that take any advantage of the 64-bit architecture, about the only tangible improvement one could do is equip the 64-bit phones and tablets with more than 3 GB of RAM, and there's not exactly a pressing need for that at the moment. With that being said, Samsung has opted to run the chipset in a regular 32-bit mode, as it will ship with KitKat out of the box, so no need to optimize for something without possible application at the moment. In any case, the Exynos-laden Note 4 could at least be futureproof, and with its Quad HD display and 64-bit architecture, it might remain so for two upgrade cycles now, instead of the typical one.