ARM and TSMC successfuly tape out the first Cortex-A57 processor, using 16nm tech
21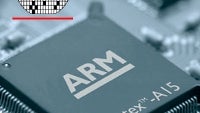 Forget Cortex-A15 processor cores, as found in Samsung's Exynos 5 Octa processor for the
Galaxy S4
, and partially in Qualcomm's newest Snapdragons, like the 600 in
HTC One
.
The British mobile chip designer from ARM Holdings, and the TSMC foundry announced they have successfully taped out the first 64-bit Cortex-A57 processor, made using TSMC's novel 16nm FinFET production tech, after a
cooperation in the 64-bit realm with the 20nm process that started last year
. The project completion took just six months, and ARM says this is their most powerful processor yet.
When exactly are we to see the monster silicon in tablets and other mobile computing gear remains to be told, but given the pace with which things are happening in the mobile realm, this moment shouldn't be far off. We can only salivate at the possibilities such powerful processors will bring to devices, as ARM says it is even suitable to cluster up for servers, so how about them tablets with Cortex-A57 cores?
TSMC was rumored to supply Apple with some 16nm FinFET chips for a "breakthrough product,"
so we might be seeing ARM's new baby in future iPads or even Macs at some point.
HSINCHU, Taiwan and CAMBRIDGE, England, April 2, 2013 /PRNewswire/ -- ARM and TSMC (TWSE: 2330, NYSE: TSM) today announced the first tape-out of an ARM® Cortex™-A57 processor on FinFET process technology. The Cortex-A57 processor is ARM's highest performing processor, designed to further extend the capabilities of future mobile and enterprise computing, including compute intensive applications such as high-end computer, tablet and server products. This is the first milestone in the collaboration between ARM and TSMC to jointly optimize the 64-bit ARMv8 processor series on TSMC FinFET process technologies. The two companies cooperated in the implementation from RTL to tape-out in six months using ARM Artisan® physical IP, TSMC memory macros, and EDA technologies enabled by TSMC's Open Innovation Platform® (OIP) design ecosystem.

ARM and TSMC's collaboration produces optimized, power-efficient Cortex-A57 processors and libraries to support early customer implementations on 16nm FinFET for high-performance, ARM technology-based SoCs.

"This first ARM Cortex-A57 processor implementation paves the way for our mutual customers to leverage the performance and power efficiency of 16nm FinFET technology," said Tom Cronk, executive vice president and general manager, Processor Division, ARM. "The joint effort of ARM, TSMC, and TSMC's OIP design ecosystem partners demonstrates the strong commitment to provide industry-leading technology for customer designs to benefit from our latest 64-bit ARMv8 architecture, big.LITTLE™ processing and ARM POP™ IP across a wide variety of market segments."

"Our multi-year, multi-node collaboration with ARM continues to deliver advanced technologies to enable market-leading SoCs across mobile, server, and enterprise infrastructure applications," said Dr. Cliff Hou, TSMC Vice President of R&D. "This achievement demonstrates that the next-generation ARMv8 processor is FinFET-ready for TSMC's advanced technology."

This announcement highlights the enhanced and intensified collaboration between ARM and TSMC. The test chip was implemented using a commercially available 16nm FinFET tool chain and design services provided by the OIP ecosystem and ARM Connected Community partners. This successful collaborative milestone is confirmation of the roles that TSMC's OIP and ARM's Connected Community play in promoting innovation for the semiconductor design industry.
Recommended Stories