Exotic Vivo X9 leaks: iPhone looks, super-thin bezels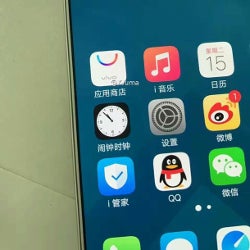 Eastern manufacturer Vivo has never been too shy about designing its X series of smartphones to
look a lot like Apple's flagship handsets
— both in physical appearance and software. Wondering why the name is ringing a bell? Well, you might have seen Vivo smartphones in the hands of Captain America and Black Widow in the most recent Marvel movies — yes, the company is making an effort to become a recognizable brand in Western markets.
Most recently, we've been hearing about
an upcoming Vivo X9
smartphone — allegedly due to be announced today, to be exact. The handset is expected to be a midranger and a recently leaked
Geekbench listing
reaffirms this. What's more interesting is that it may have
dual front-facing cameras
— with an 8 MP and 20 MP sensors —, and we are curious to see what Vivo intends to do with those — perhaps a wide-angle selfie cam like the one on the LG V10?
Now, supposed hours before its official unveiling, the Vivo X9 was caught in the wild and pictured, revealing its super-thin bezels and iPhone-esque looks. And we are not even exaggerating, the phone's back looks like the offspring of an
iPhone 6s
(camera ring and positioning) and
iPhone 7
(antenna bands), while its software clearly took a direct inspiration from the icons of iOS — specifically the Phone, Messages, Browser, Camera, Settings, Music, and Clock apps.
The phone is expected to have a rather large, 5.5-inch display with a 1080 x 1920 resolution, a Qualcomm Snapdragon 625 SoC, and 4 GB of RAM. However, it may come in a couple of different configurations, and earlier rumors talk of a Vivo X9 Plus, too. So, we will see.