Existing iPhones to grow shipments this quarter despite mounting anticipation for iPhone 5?
5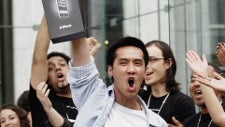 Component orders for current iPhones have continued growing recently and we can expect
iPhone shipments to also rise by 10% to 15% in the third quarter of 2012
, according to DigiTimes supply sources. This slashes the concerns of many analysts who predicted that current iPhone sales in this current quarter will fall as anticipation mounts for the new iPhone, said to be unveiled on September 12th.
The majority of people either didn't know or didn't care about the iPhone 5, though, as demand is ramping up. Manufacturers reported higher orders for parts and components for current iPhone models and touch panel maker Wintek revenues surged 60% in July, not without the help of Apple's growing touch panel orders for iPhone 4S.
Cupertino and various retailers are also helping out undecided customers by dropping prices on the iPhone. Best Buy lastly slashed iPhone 4 by $50 and Sprint also cut the price of the iPhone 4S by $50.
If you are wondering whether you should buy an iPhone now or wait, we wouldn't doubt it for a second, though - wait. All clues indicate that Apple will unveil a new iPhone in just three weeks, on September 12th, and it's expected to be probably the biggest upgrade to the iPhone series ever. So if you get either the iPhone 4S or iPhone 4, chances are you'd feel you have an old phone in just around a month.
source:
DigiTimes
Recommended Stories