Everything's coming up roses for T-Mobile Tuesday
7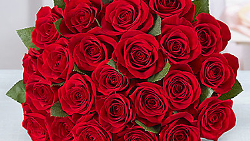 T-Mobile Tuesday is just days away, so let's take a look at what the Un-carrier has lined up for its subscribers this coming week. First, T-Mobile subscribers can score a $2 movie ticket from Fandango. One caveat; the discount can be used for a movie on Valentine's Day (February 14th) only. What is Valentine's Day without a delicious meal shared by you and your partner? So T-Mobile is giving subscribers $25 to be used at one of the 62,000 restaurants covered by Restaurant.com. Unless you want to be met by "the stare," you are also going to need flowers delivered to your significant other. As it turns out, T-Mobile subscribers will get $15 off and free shipping/no service charge for a purchase from 1800Flowers.com.
Now, we turn to the contest prizes. Once again, there will be two Grand Prize winners. Each one will receive a $2,400 gift card that can be used for purchases made from 1800Flowers.com. In addition, each grand prize winner will receive a check for the amount of $1,030 to pay for taxes or for anything else the winner wants to spend it on. Twenty-Five first place winners will win a $70 gift card from 1800Flowers.com, and One Hundred second place winners will get a $25 gift card from 1800Flowers.com.
Overall, T-Mobile is giving away 127 prizes for the weekly contest. The value of these prizes amounts to $11,110. And if you're wondering why the amount is so low compared to other weeks, the answer will be right in front of your eyes tomorrow. At the official rate of $5 million of a 30-second commercial, T-Mobile is spending at least $10 million for a pair of ads that will run during Super Bowl 51.
source:
T-Mobile