Evan Blass: the LG V30 won't come with a secondary ticker display
22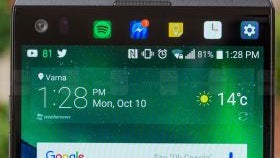 According to serial smartphone leakster Evan Blass, the LG V30 won't come with the series' marquee secondary ticker display. Although the tipster did not share any other information, he did indicate that the ticker display will be replaced with something else.
Although optimism will definitely lead LG fans to believe that something better than a secondary display is on its way to the LG V series, Blass was unwilling to spill the beans just yet.
The
LG V10
, the first smartphone in what LG calls its flagship series for content creators, introduced an intriguing feature, a secondary ticker display. With the latest
LG V20
, the manufacturer has further improved on the delivery, and although secondary displays are still not a smartphone feature that's expected to go mainstream anytime soon, the concept has earned
a notable fan base
.
Blass is allegedly basing this information on leaked renders of the LG V30. If Blass wouldn't have built a reputation out of leaking smartphones early, we would've found it hard to believe that renders of a phone that's likely some 9 months away have already leaked.
If you're a fan of the LG V series mainly due to the secondary display, there's no need to worry just yet. With so much to go until the LG V30 is expected to enter mass production, even if Blass is right and the secondary display is gone in the current designs, LG might change its mind over the next few months.
What do you guys think? Could LG surprise us by introducing an even wilder feature than a ticker display on next year's LG V30?