LG V10's ticker display: Gimmick or useful? (poll results)
12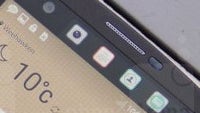 Do you reckon the name LG chose for the V10 is a coincidence? We don't. In fact, our guess would be that LG wanted to go for something that instinctively communicates power. And that certainly makes sense — after all, the new phablet's specs sheets leaves pretty much nothing to desire, and even offers a few perks.
Like the secondary 'ticker' display up top. With it, you'll be able to peek at the time and weather without ever having to wake up the device, and also know if any notifications await you. When the main panel is on, the 2.1-inch, 160 x 1040 pixel screen will double up as a shortcuts dock, with access to apps and favorite contacts. Unfortunately, its location on the top of what is an already large screen is less than ideal.
So we asked you, do you feel like the ticker display is a gimmick or can it be actually useful
?
The results of our poll are now in, and though we have a clear winner, the split still shows that quite some people are not yet sold on the feature, and some will probably never be. In any case, 58.65% of voters think it's a meaningful, useful addition to the package, while the remaining 41.35% shout 'gimmick!'. Unsurprisingly, the positioning of the ticker was among the more commonly cited reasons to vote no within the comment section.