Essential Phone release date, price, and availability: all we know so far
17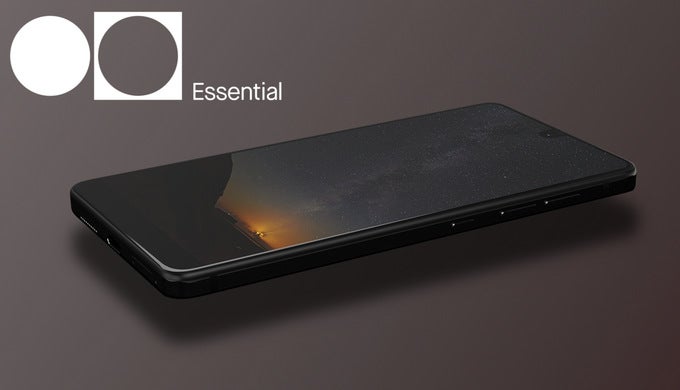 It was May 30 when the Essential Phone was officially announced. Its unveiling was a big deal – not only because we rarely see a new company entering the smartphone market, and not only because the phone itself was looking top notch, with premium, modern design, high-end hardware specs, and clean Android software to top it all off. The excitement around the young company and its first mobile product was also fueled by the fact that Andy Rubin, often referred to as the "father" of Android, is the man in charge of Essential. In other words, this phone
had
to be good if it was conceived by the man who brought to life the world's most popular mobile OS, right?
But then the hype started to fade. It has been 48 days since the Essential Phone's public unveiling, and news regarding its launch have been anything but scarce. So we decided to put everything we know about the Essential Phone release in once place. Here it goes.
Where is the Essential Phone going to be available?
Of course, the Essential Phone is launching in the US. It will be available through the company's website, and those who wish to buy one may pre-order it – unlocked and ready to work on any major US carrier. Alternatively, you will be able to buy an Essential Phone from Sprint when it is released, meaning that you will be able to actually see the phone at one of the carrier's retail stores prior to buying it. Best Buy will have the handset on sale as well, offered with service from the same carrier.
Folks in Canada will be able to grab an Essential Phone exclusively through TELUS. Pre-orders aren't accepted yet, but you may register to receive an email notification when the phone becomes available to order.
Earlier today it was announced that the Essential Phone is also coming to the UK. It will be available on EE, though other carriers are also expected to offer the device. The phone is also coming to Japan and markets in Western Europe.
It is important to note that for now, orders placed through Essential's website will ship solely within the States.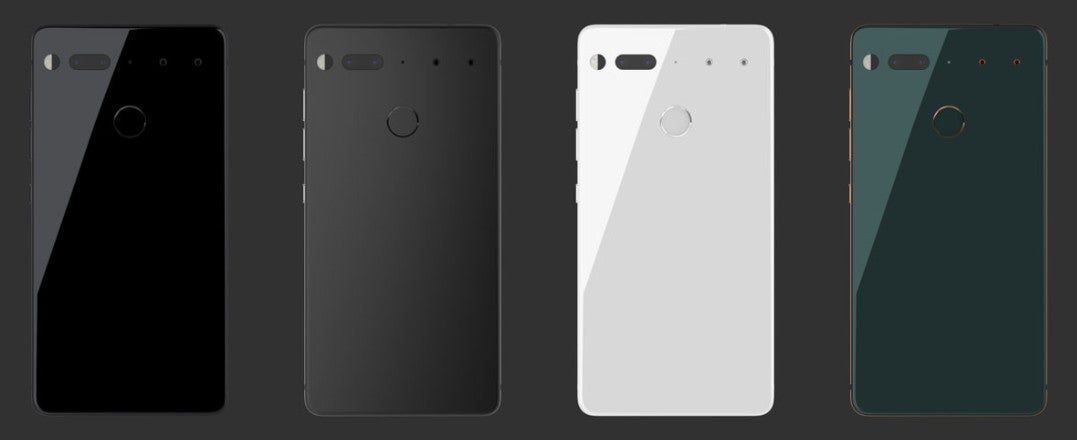 The four colors the Essential Phone will be available in. Currently, only the glossy black and white options are available for pre-order.
How much will the Essential Phone cost?
On its own, the Essential Phone currently costs $699 if ordered from the company's official web page. An extra $50 gets you a snap-on 360-degree camera. Sprint and Best Buy have not disclosed their pricing yet. Same goes for TELUS in Canada, EE in the UK, or any Japanese or European carrier expected to launch the handset. In any case, it isn't going to be cheap.
When is the Essential Phone going to launch?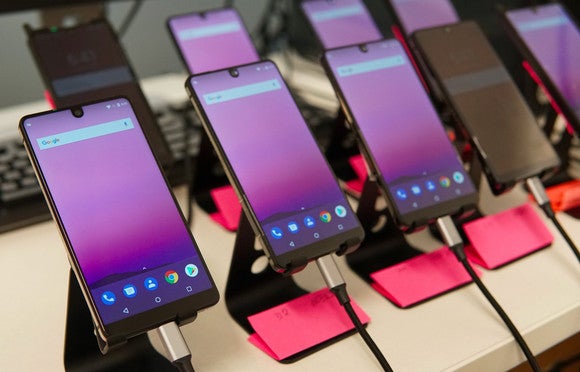 The Essential Phone being tested for reliability in the company's labs – one of the several posts Essential has been teasing us with over the past weeks
That is the $50,000 question for tonight, folks! During an interview with Walt Mossberg back in May, Andy Rubin was asked the same thing, and he responded with a brief
"soon."
Then he added the following:
"You can reserve it now, and I wouldn't take reservations if it wasn't going to ship in 30 days or so."
It has been 48 days since Andy made this statement.
As you can imagine, many are starting to wonder what's the hold-up with the Essential Phone, even though Rubin never committed to a specific release date. What we know officially is that the phone is coming this summer – probably sooner than later, as the Essential Phone release was called "imminent" by one of the company's executives.
What's causing the delay? We aren't exactly sure, and Essential hasn't responded to any of our invitations to comment on the matter. One obstacle that comes to mind is that ceramic – the material that the Essential Phone's back is made of – can be difficult to manufacture to tolerances needed for such a product. Another is that soon after the phone's announcement, Essential was accused of trademark infringement by accessory maker Spigen, and that case could be taking longer to settle. Whatever the case is, we'd rather have Essential release its Phone late than never.