China will not be among the countries to receive the first iPhone 6 units
21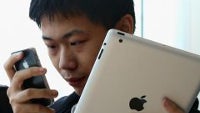 So, the
iPhone 6
has been announced and will soon start rolling out to countries across the globe. Customers in the US, Australia, Canada, France, Germany, Hong Kong, Japan, Puerto Rico, Singapore, and the UK will be able to pre-order a shiny new iPhone come September 12th, with the first wave of devices hitting said countries on the 19th.
What this list doesn't include is the biggest smartphone market – China. Probably not the best situation, as the country has been a big part of this year's successes in
iPhone 5s
sales. Not to mention that China Mobile, China Unicom, and China Telecom started taking pre-orders earlier this month, claiming that the iPhone 6 will be available mid-September, and by the 2nd of the month, China Mobile had racked up
33,000 pre-orders
. Maybe not an impressive number, but still one that was obtained in 2 hours of the pre-order page being up, and a week before Apple even announced the device officially. Reportedly, by September 9th, the pre-orders were "hundreds of thousands".
Apple's own website also included China in the list of countries to receive the first wave of devices, however, it was quickly removed in an edit a few hours after the official announcement. So it seems like it was a last-minute change of plans. Media speculations suggest that Apple has not yet received a routine certification from the Ministry of Industry and Information Technology. MIIT's website has not yet listed the new iPhones as approved, which is usually the case before a new handset is launched in China.
Apple hasn't commented yet, though various 3rd party retailers in China have confirmed that the launch date for the country has been pushed back, though none of them were able to give a concrete date. The three carriers that sell Apple's handsets have taken down their pre-order pages and mum's the word on when they will be back up again.
If the only hold-back is MIIT's green light, Apple will be able to proceed with selling the device as soon as it gets the nod, so that shouldn't be much of an issue. Otherwise – we wonder what would hold Cupertinians back.