Apple can't push iPhone 6 to China, its shares drop in response
66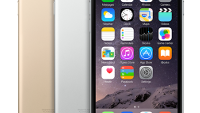 Apple may be doing well with its iPhone 6 pre-orders as far as the markets in the Western hemisphere are involved; however, the Cupertinians' shares seem to be plummeting today. It seems that the culprit is their inability to get the iPhone 6 across to markets in China.
Indeed, we heard earlier that the first wave of new iPhones
would not hit Chinese markets
, and, while Apple is keeping mum on the matter, the general speculation is that the new devices were not approved by China's Ministry of Industry and Information Technology (MIIT) – a state agency that has to approve every electronic device, before it hits Chinese markets. This speculation is backed by the fact that MIIT has yet to state that the iPhone 6 has been approved – something that the agency regularly does on its own website.
21st Century Business Herald got a hold of an anonymous source, who's "close to Apple", who said that this is, in fact, true, and Apple may have to wait until next year, before it could try and reach an agreement with MIIT.
China Mobile, on the other hand, says it is not at all concerned by the fact that it will not be able to offer iPhone 6 units soon, as the carrier has decided to change its strategy. Instead of offering subsidized devices to its customers, the operator prefers to start pushing affordable smartphones, made by China's own manufacturers. This way, China Mobile intends to cut down a hefty $2 billion budget it uses to help customers get pricy flagships, and reach more consumers at the same time.
China Mobile chairman Xi Guohuatold said "The direction of our development is to completely focus on the mass market. We have 4G devices selling for 1,000 yuan. I believe, subsidy or no subsidy, discount or no discount, the common person will be able to appreciate this."
The current price of a subsidized iPhone 5s from the carrier is $860 (5,288 yuan) down and ~$63 (388 yuan) per month (most expensive option), whereas a Huawei G620 – a low mid-range smartphone with a 5" qHD display and a 1.2 quad-core SoC – costs $195 (1,199 yuan) off-contract.
So, between the Cupertinians' inability to bring its latest flagship to the largest smartphone market, and the world's largest carrier saying that it's much more interested in selling cheaper handsets anyway, Apple's shares fell by 1.4%, while China Mobile marked a 3.8% fall of its own shares.
source:
Bloomberg
via
BGR