Employees on the New York MTA's Metro-North Railroad are testing paperless ticketing using a free app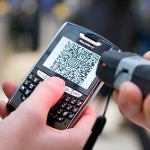 Next month, employees on the New York MTA's Metro-North Railroad can do their part in keeping the city beautiful by
taking part in a trial that will replace paper tickets with a scan of their personal smartphone screen
. Using their own Apple iPhone, BlackBerry or Android model, the employee will buy a ticket which will be validated from the phone itself. To take part in the trial, MTA employees will download a free app on to their smartphone and this app will allow for the purchase of any type of ticket and its display on the user's phone.. Whether it is a one-way, round trip, 10-trip or monthly trip coming from and to any location served by the railroad, the app can be used to buy the ticket using a credit or debit card.
"Smartphones have the potential to transform the public transit systems across the United States. Passengers will be able to quickly and easily find, buy and display tickets on their phones wherever they are without having to worry about carrying cash or waiting in line, thereby providing a better commuter experience. We're delighted to be working with the MTA."-Giacomo Biggiero, Director of Masabi US Ltd
After payment is made, the ticket, time and date-stamped electronically,
appears on the users smartphone display as a secure image
. The conductor can then look at the image and visually validate it. There is also a bar code on the smartphone screen that can be scanned using the conductor's hand held device to make sure that it is valid. When the trial starts next month, railroad staff will do some studies such as time measurement, comparing the speed of using the smartphone ticket vs.the current method of selling tickets to customers on-board the train, collecting and inspecting them. Also being tested will be efficacy and anti-fraud measures. If successful,
Metro-North will seek to expand the program to its customers
.
The company behind the technology, Masabi US Ltd, is also testing a similar paperless ticketing system this fall for the Massachusetts Bay Transportation Authority (MBTA). The company's technology also supports future use of NFC as a way to let riders tap their phone against a gate to validate an electronic ticket and open the gate to let them onto the train.
It was 25 years ago when
Ticket Vending Machines started to be used
and were a smashing success as it reduced the number of employees needed to handle the ticketing of riders. Metro-North President Howard Permut noted how quickly the TVM became the preferred method of purchasing tickets for the railroad and he sees the same thing happening with the paperless method being tested.
source:
MTA
,
TheVerge
via
Engadget
MTA Metro-North Railroad, working with transit mobile ticketing specialists Masabi US Ltd., will begin testing a smartphone app that will let people buy their train tickets anywhere, anytime and never have to hold a piece of paper.


This technology will allow customers to use today's phones to quickly and securely buy and display electronic tickets thereby avoiding queues at ticket machines or having to use cash on-board trains.

"We are as excited to begin testing the next generation ticket selling technology as we were when we introduced ticket vending machines a quarter of a century ago," said Metro-North President Howard Permut. "Our customers adapted quickly to TVMs and the machines became the preferred way to buy tickets. The latest test is intended to ensure that the newest technology will be equally easy to use, as well as secure and reliable."

During the pilot, railroad employees will act as users and will be able to download the free app to their iPhone, Android or Blackberry phones. Through the app, these users can buy any type of ticket, one-way, round trip, 10-trip, monthly etc., with any origin and destination using their credit or debit cards to make the purchase.

The time and date stamped electronic ticket shows up on the purchaser's phone screen as a secure image that a conductor can validate visually. The electronic ticket also shows as a bar code that can be scanned by a conductor's hand held device to verify that the barcode is valid.

"Smartphones have the potential to transform the public transit systems across the United States. Passengers will be able to quickly and easily find, buy and display tickets on their phones wherever they are without having to worry about carrying cash or waiting in line, thereby providing a better commuter experience," said Giacomo Biggiero, Director of Masabi US Ltd. "We're delighted to be working with the MTA."

Next month, railroad staff will begin testing the mobile ticketing technology including a time measurement study to compare the new method to current on-board ticket selling, collection and inspection. Efficacy and anti-fraud measures also will be tested. If successful, Metro-North will seek to expand the program to its customers.

Masabi US Ltd also is working with Massachusetts Bay Transportation Authority (MBTA) to introduce smartphone rail ticketing system this fall. Masabi's technology also supports the future move to contactless "near-field communications" technology when these handsets become more widely available, allowing tickets to be checked or gates opened by simply tapping a compatible device against a reader.

The company's technology also is used by 13 of the UK's transit agencies, including Virgin Trains, Cross Country Trains, Chiltern Railways and thetrainline.com. For more information see www.masabi.com/us