Elop: "I'm very happy with the decision we made"
99+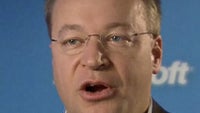 Nokia CEO Stephen Elop recently sat down to chat with a publication in the U.K. and as you might expect, the question came up about Nokia's decision to
go with the nascent Windows Phone platform to replace the dying Symbian OS
. Until recently, many had questioned whether Android, with its rapidly growing applications market and market share momentum, would have been the better choice at the time. But while the Nokia CEO will probably continue to be questioned about this until his last breath, he is hearing it far less these days.
While Windows Phone still trails iOS and Android badly, there has been a
change in the wind
, something that could be felt by observers in the industry. When even
a long time iPhone user switches to the platform without regret
, a corner has been turned. And the release of the Nokia Lumia 1020 puts the punctuation on the recent focus (for lack of a better word) on the performance of smartphone cameras. Nokia has built a niche around the camera, specifically when it comes to low-light photography. But the
Nokia Lumia 1020
goes beyond that, to the point that Nokia is close to making the Lumia line the phones to buy for those more serious about photography. It's a brilliant tactic and whether it was planned or whether Nokia sort of fell into this doesn't matter.
While it has been BlackBerry's Thorsten Heins making most of the noise recently, for all of his talk
BlackBerry is continuing to send out underspec'd models
. Microsoft will later this year set the stage for large screened Windows Phone models with 1080 x 1920 resolution and quad-core processing with an upcoming update. Stephen Elop has kept his cool, even when things looked bad, and has tried to remain under the radar. His decision to pass on Android had to do with his worry that Samsung would become the dominant player there, a prediction that he was absolutely right with. Now, Nokia is the dominant manufacturer of a growing platform that has finally figured out its place in life.
The nature of things on earth is that everything changes. With one fell swoop, a new Android model could offer a better camera. Or, Apple could come up with something by way of Sony that might overtake Nokia. But for now, Nokia has the smartphone camera market and its new mission is to not let go.
"I'm very happy with the decision we made. What we were worried about a couple of years ago was the very high risk that one hardware manufacturer could come to dominate Android. We had a suspicion of who it might be, because of the resources available, the vertical integration, and we were respectful of the fact that we were quite late in making that decision. Many others were in that space already. Now fast forward to today and examine the Android ecosystem, and there's a lot of good devices from many different companies, but one company has essentially now become the dominant player. Strategically that's important for us [to be offering an alternative OS] because having a conversation with [chief executive] Ralph de la Vega at AT&T, the first step in the conversation is the recognition that we're not Apple, we're not Samsung/Android – used to be Android/Samsung, it's actually about Samsung now – we're a third alternative. And as an operator he wants to negotiate with different people and keep pressure on everybody and have the best range of options, he wants that third alternative. So strategically we have an opening with AT&T and every other operator in the world – because we've taken that path as the third ecosystem. Now, it's hard – it's very difficult because we are starting as a challenger, we're having to build that credibility; but with partners like AT&T we're gaining that traction . But it was the right decision. You look at a number of other Android providers right now and they're in a tough spot."
-Stephen Elop, CEO, Nokia
source:
Guardian
via
WMPoweruser