Elevate and Threes! get Apple's top app honors, Uber makes the list as well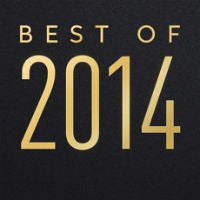 We're closing in on the end of the year, which means it's time for everyone to put out their "best of" lists for everything that exists. We've already put out our
Best Innovations of 2014
list, and we have more on the way. Google has put out its list of the
best apps
for the year. Now, Apple is putting out its lists for the best apps, games, music, movies, TV shows, and books for the year.
The media content awards are pretty much expected, with Beyoncé as the artist of the year, Taylor Swift's
1989
as the album
people were forced to buy
of the year,
Fancy
by Iggy Azalea as song of the year, Sam Smith as new artist of the year,
Guardians of the Galaxy
as blockbuster movie of the year,
Fargo
as best TV show, etc. Apple has an extensive list of app and game picks, which is headlined by:
iPhone App of the Year: Elevate - Brain Training
iPhone Game of the Year: Threes!
iPad App of the Year: Pixelmator
iPad Game of the Year: Monument Valley
There were tons of runner up games, including Hitman Go, World of Warriors, Spider-man Unlimited, Farmville 2: Country Escape, Godus, Crazy Taxi City Rush, SpellFall, and more. The runner-up apps of the year list includes: Yahoo News Digest, Swiftkey Keyboard, 1Password, NYT Now, Yummly, Health Mate, Stellar, and even Uber.
It's that last one leads to some obvious controversy. Uber is a very popular app, and many find it incredibly useful. But, Uber also has some
major troubles
right now with accusations of drivers raping passengers, unethical business practices (like the "God View"), and even a potential plot by execs to smear a journalist dared tell people about that sketchy "God View". So, some people like the app, and some have very serious reservations about those running it.
You can find the full list of Apple's "best of" in iTunes.