Eat your heart out, Apple - the Bellperre Touch smartphone has a 4.9-inch sapphire crystal screen, touch-thru-leather tech
13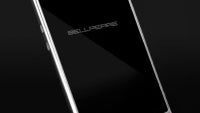 Apple doesn't make failures very often. That's why it feels particularly painful when it does. Last November, we all learned how its sapphire factory plans
had spectacularly crashed and burned
prior to the iPhone 6's launch. It will be a while before Apple finds a way to mass-produce sapphire crystal cylinders at reasonable cost, but this is Apple - when its collective creative potential puts its mind to something, it finds ways to do it really well.
Meanwhile, Vertu and Bellperre - a Dutch brand that prides itself on "timeless luxury phones" - already made sapphire happen. Of course, it is much easier to splurge on sapphire coating when you are selling a limited number of luxury handsets to the affluent, but in Bellperre's defense, sourcing enough crystal for a production run of 4.9-inch smartphones is no small feat!
That strip of leather below the screen? It's touch-sensitive.
Its 720p Super-AMOLED screen with premium glass covering aside, the Bellperre Touch has plenty of things going on for itself. Its built out of corrosion-resistant 316L stainless steel and either Buffalo leather or American Alligator skin - whatever you choose. All of this makes for a shatter and fire-resistant smartphone that will be produced in a whopping 73 colors! Oh, and that strip of leather below the screen? It's touch-sensitive - we take it there are capacitive keys or sensors underneath that act as Android's navigation buttons do.
As for processing grunt, this blue-blooded beast comes with a dual-core 1.5GHz CPU, 2GB of RAM, and at least 32GB of internal storage. It supports NFC, Bluetooth, and LTE, while an 8MP main camera and a 1.9MP front cam take care of photographs.
Price-wise, this one is actually on the low-end tier for luxury devices, at just about $3000 for the Buffalo leather version and $3430 for the Alligator Skin. While it doesn't scream "I'm rich!" quite as in your face as
a $20,000 Vertu does
, this is one finely hand-crafted piece of mobile technology.
via
Luxury Launches