Ever seen cracked sapphire? Check out the photos of the broken glass Apple received from GT
35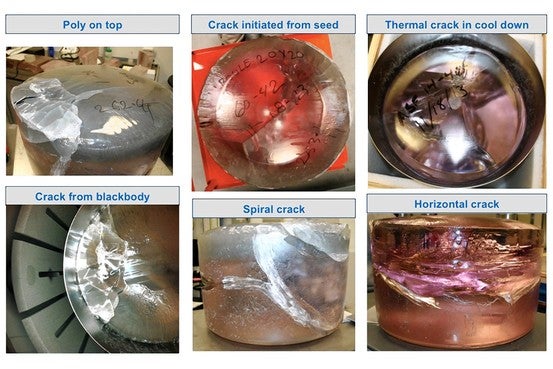 See those strange and beautiful crystals above? Sadly, this is not a collection of pretty mineral rocks. These are the photos of defective sapphire samples served to Cupertino by GT Advanced Technologies,
the supplier that built a sapphire factory with Apple
, then
filed for bankruptcy
while trapping itself in a "he said, she said" argument with its partner's head honchos. Obviously, none of this cracked, coarse glass could have gone inside the
iPhone 6
and
iPhone 6 Plus
.
But how did things get so bad? While shopping for sapphire suppliers - most of them unwilling to participate because they couldn't profit from making sapphire at the price Apple wanted - the iPhone maker received an offer from GT. The company pitched a furnace that could "bake" a 578-pound sapphire cylinder (boule) - twice as large as the world's biggest sapphire cylinders right now. This would have solved the material's low yield problem, while simultaneously reducing costs.
Understandably, Apple was thrilled, and GT had a solid track record, so Cupertino attempted to buy 2600 furnaces from GT and start a sapphire factory. However, the Apple execs decided that paying GT a 40% cut per furnace was a bit steep, so instead, it directly tasked GT with making the tough glass. The arrangement saw Apple lending GT $578 million for building 2036 furnaces and running a factory in Mesa, Arizona. For another $500 million, Apple would buy and furnish the workshop, and it would lease it to GT for $100 a year. Those are some twitchy economics, but nevertheless, an agreement was signed on October 31, 2013. And this happened just days after the first 578-pound sapphire cylinder came out of the oven - cracked and unusable.
"Money was flying out of the door."
In a strive to improve the production quality, and with Apple's trust, GT quickly hired an additional 700 staffers, which only led to mismanagement and chaos. Amidst the lack of an attendance policy and the establishment of unlimited overtime, hundreds of workers ended up having nothing to do, but sweep the floors and act busy to get paid. There weren't enough furnaces to operate, and in the words of one employee, "money was flying out of the door". However, the worst problem, and the most crucial too, was that the making of a single sapphire boule took as much as 30 days and cost $20,000. On top of that, more than half of the production was deemed unusable. That's a lot to write off!
In addition, GT (allegedly) lost three months of work time to power outages and facility building delays. In other words, a grand fiasco took form. Eventually, GT and Apple decided on making smaller cylinders, which almost got the production problems sorted out. However, a manager mistakenly sent 500 of the 14-inch thick bricks of material used to make iPhone screens to recycling, instead of shipping. They were discovered later, and no money was lost, but the work was protracted. By that time, it was clear that sapphire had to be scrapped altogether if the iPhone 6 and his compatriot were to be announced in September.