Earthquake and Tsunami problems in Japan could delay Apple iPhone 4 and iPad 2 shipments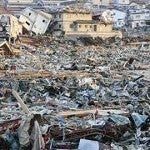 The recent problems affecting Japan might plague Apple until as long as June. Mitsubishi Gas Chemical Co and Toshiba, two of the Cupertino based firm's suppliers, have closed some operations thanks to the double punch of the earthquake and tsunami that hit Japan last week. Piper Jaffray analyst Gene Munster believes that this could lead to shortages of the Apple iPhone 4 and iPad 2 through June.
Toshiba produces 40% of the world's flash memory while Mitsubishi Gas produces BT resin for Apple's circuit boards. But Munster points out that Apple uses multiple suppliers which lessens the reliance on one particular company and helps the company continue production even when a one-two punch of natural disasters takes place. The analyst said, " This strategy has proven to be an effective way for Apple to leverage its balance sheet and its position as one of the largest buyers of many of the components it uses; moreover, this strategy may prove particularly helpful if supply is limited and pricing increases. Finally, we believe Apple buys futures on important components, which will help offset near-term pricing swings. Our conclusion is that Apple is well positioned to suffer proportionally less than its competitors."
source:
AppleInsider