Duo video calls can now be sent to Android users who haven't installed the app
5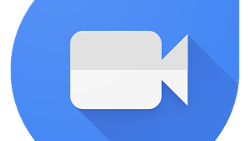 Ever ask a friend or family member to install Google's video chat app Duo so that you can stream live video to him/her? No longer is that necessary, thanks to an update pushed out by Google. Duo will now send video chats to those with Android phones who have yet to download the app on to their handset. Like a regular Duo call, the recipient of the video chat sees live video from the caller even before deciding to accept the call. Scrolling up from the phone icon will start the conversation.
Other Duo features are available such as the ability to switch from the front-facing selfie camera to the camera on the back of the phone. And yes, you can even decide to lose the audio portion of the call by muting the microphone. Ending the call is also achieved in the same way as a regular Duo call is.
The biggest difference is what the recipient sees after the video chat is over. The person on the receiving end of the call is asked with a prompt if he wants to install Duo on his phone, which would allow him to initiate Duo calls instead of only receiving them. And there is one other thing. The recipient of the call is asked whether he wants to block the caller from any future attempt to reach him on his phone.
source:
AndroidPolice