Dual-core Nokia Zeal to flaunt aluminum unibody chassis in Zune HD style come early 2013
23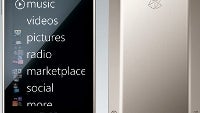 For the first Windows Phone 8 designs of the
upcoming Lumia 820 and 920
, or whatever the official names are to be unveiled today, Nokia is evidently betting on that distinctive unibody polycarbonate design its WP handsets are immediately recognizable for, judging from the leaked renders.
Next year we will see the real push from Nokia, though, now that Windows Phone supports HD screens and multicore processors, so the rumor mill spat one of the phones that might be in store for the traditional CES unveiling.
The handset is codenamed Nokia Zeal for now, and will feature a 1GHz dual-core processor, 4.3" display of undisclosed resolution, 512MB of RAM, and 8GB of internal memory. Those specs are now squarely in the mid-range category for Windows Phone 8, but the most interesting part of the rumor is that it will be
styled to reminisce the Zune HD music player
, which has an appealing aluminum casing.
Nokia said that it didn't have much time to think about new designs for its Windows Phone handsets, when it started making them, so it borrowed the innovative polycarbonate unibody opf the N9, which was already prepared, but it is planning a lot of design surprises going forward. Well, an aluminum unibody Nokia Zeal should do the trick for early 2013.