Drunken RIM executives chewed through restraints aboard Air Canada flight
11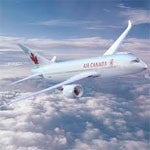 Some additional details have emerged regarding the
bender two RIM executives went on aboard an Air Canada
flight that
lead to their termination
. Apparently this incident involved a little bit more than your average drunken shenanigans. CBC News obtained court transcripts that paint a chaotic picture of the ruckus that was caused on board.
The two executives, George Campbell, 45, and Paul Alexander Wilson, 38, were described by fellow passengers as "
quite intoxicated
"
when they boarded
the plane. One passenger, when asked to describe their behavior after take off, said,
They drank more, passed out, one would wake up and lean over the little cubicle, slap the other guy on the head because he wanted someone to drink with, and then they would yell and abuse each other.
Campbell, in particular, threatened to "
off people when they left the plane
." He later
lay on his belly in the aisle and started kicking
the floor. One of the two also assaulted a flight attendant and
threatened to punch
another flight attendant. Eventually, crew members attempted to restrain the men with plastic handcuffs and tape, but Campbell and Wilson managed to "
chew their way through their restraints.
"
lockdown situation.
"
The prosecution in this case described the men's behavior as "
way over the top.
" Although both men have pleaded guilty to mischief and ordered to pay Air Canada a combined $77,000, Air Canada is estimating that the ordeal cost them close to $200,000 and is expected to sue for the remaining balance.
source:
CBC News
via
SlashGear