Droidthing database aims to shout "Order!" to the batallion of Android devices
4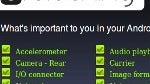 Droidthing is an online database for search and comparison of Android-based gadgets. The interface is very polished and easy to use, and the site has nice visuals.
The search function is based on a number of criteria, including carrier, chipset type, and even price. The database, however, seems to include only the most popular gizmos for now. We checked all options for search and Droidthing returned just 53 devices to choose from, and we know there are many, many more - our own database returns 150 Android devices we've either reviewed or written about, and that's not including many devices sold in China or India, for example.
Anyway, it's still in its nascence, so hopefully the database will expand. What they compensate with, is visual candy, and a lot of it. There is also a discussion forum, which is unpopulated for now. If you are curious to try it, head over to the link in the source.
source:
Droidthing