Drawings of Microsoft Surface tablets start appearing on walls across New York City
15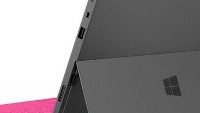 Two months after announcing them officially, Microsoft has now started actively promoting its Surface tablets. Graffiti reminding people of the company's upcoming Windows 8 powered slates have started popping up on walls throughout New York City, with photos of at least two of them posted by locals on the internet.
Isn't it a bit too early for Redmond to start advertising the tablets, however? After all, neither of the Microsoft Surface models is expected to be
released earlier than late October
, alongside Windows 8 itself. That is over two months away from now. On the other hand, the company might have prepared a rather aggressive marketing campaign for its two upcoming tablets. Competition on the tablet market will be tough, and if Microsoft really wants to get a piece of the market share pie, it better make sure that the public is well familiar with its offerings.
What do you, guys, think of Microsoft's marketing campaign? Could it have been a bit more original, or would you rather say that it is a good start? Let us know what you think by dropping a comment!
Recommended Stories