Drake and Pharrell show off the Apple Watch on their wrists more than two weeks before launch
34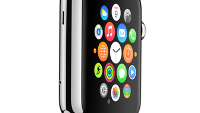 Rap singer Drake apparently gets certain perks for being a visible star. For example, he took to his Instagram site on Thursday evening to post a picture showing him wearing an Apple Watch Edition just hours before pre-orders for the newest Apple device started. The price range for the top-of-the-line Apple Watch Edition runs from $10,000 to as high as $17,000.
Earlier this week, "Happy" singer Pharrell Williams wore his stainless steel Apple Watch on NBC TV's
The Voice
, and later showed it off on Instagram displaying the Mickey Mouse watch face.
Williams has a connection with Cupertino as
he was signed by Apple last year
to sing during the annual iTunes festival.
The Apple Watch will be launched on April 24th. Apple wants it to be seen not only as a hi-tech device, but also as a piece of fashionable jewelry. The wearable
has already been featured in Vogue magazine in China, Paris and the U.S.
Apple has set up a glass display area in its stores for the pricier Apple Watch models to be tried on, similar to what you might find in expensive jewelry stores.
While Apple retail head Angela Ahrendts said last week that
the best way to reserve an Apple Watch is to do it online
, she never said that the best way to obtain an Apple Watch before the launch is to be a famous celebrity singer.
source:
AppleInsider