Download these three paid iPhone apps for (almost) free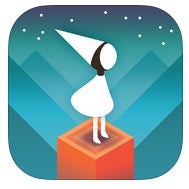 Earlier today, we told you that several apps on iOS have seen drastic price cuts and have
gone completely free for a limited time
. Such promotions are usually a pretty good thing, and it seems that we might get even more of the same – today, the prices of some pretty interesting and popular mobile games have been slashed on iOS, too. We are talking about some titles that overflow with quality and would most probably be appreciated by both casual and hardcore gamers alike.
The highly-addictive
Threes!
, a well-designed matching puzzler, has seen its price go down to $0.99, which is a pretty good deal, if you ask us. In Threes!, players have to match the number tiles in pairs and combine them in order to get the highest number possible.
Another discounted iOS game is the
truly beautiful Monument Valley
, which made it to our
list of the best mobile games that came out in H1 2014
. It's pretty hard to describe this magical piece of art with plain words – just head on to the download links below and try it yourself, okay? It's been discounted to $1.99, which is more than worth for such a chef-d'oeuvre of a game.
Last, but definitely not least, comes
the challenging and time-consuming The Room Two
, which also got its spot into our
"Best Games of H1 2014" list
. It's a rather macabre and eerie puzzle game, which requires you to solve different puzzles and riddles. The game's only con is that is not as long as we'd want it to be, but if you are up for some quality gaming time, then you can snatch it for $0.99.
You can download the games from the links below: