Popular puzzle game Threes! now available for Android
3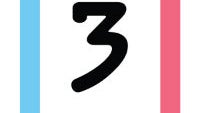 Threes! is one of the best designed games you'll find on mobile. It doesn't have flashy graphics, and the gameplay falls into the "easy to learn, but difficult to master" category. The game exudes personality in every aspect, and it is painfully obvious that a lot of love went into its development. The game is essentially a matching puzzle, but gets very complex very quickly.
Threes! landed on iOS last month and today it has made its way to Android as well. The game is simple enough: you have a 4x4 grid of spaces and sliding left, right, up, or down will move tiles and bring a new tile onto the board. There are three basic tiles - 1 (blue), 2 (red), and 3 (white). 1s can be combined with 2s to make 3s and anything 3 or above can only be matched in a pair (3s with 3s, 6s with 6s, etc.) Of course, what starts as a matching game quickly evolves into an exercise in space management and planning as the board fills up.
But, the best aspects of Threes! are in the other design features. Each number is a character (you'll notice there is a face on the #3 tile above) with a distinct voice and personality, and you are introduced to each character as you get bigger and bigger numbers. And, the game offers one of the best soundtracks you'll find in any game. There are only three tracks (obviously) and if you really dig the music, you can buy the album for whatever you'd like to pay.
Maybe best of all, there are no in-app payments and no micro-transaction ecosystem in the game. The game will cost you $1.99 (which is a special limited time 33.3333333% off deal) and that's all you'll have to pay, which is somewhat refreshing given how much developers tend to go too far with free-to-play. If you want to play, you'll need an iPhone running iOS 6 or newer, or an Android device running Android 4.0 or higher.