Donald Rumsfeld does Game Center: play his Churchill Solitaire, "the most diabolical solitaire ever devised"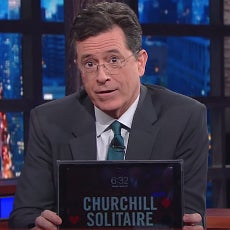 Former Secretary of Defense Donald Rumsfeld is known for many things - invasive Mideast policies, the "known unknowns" meme, or pushing the FDA to approve aspartame as a CEO of Searle - but making a virtual cards game for iOS at 83 is self-reinvention at its finest.
Joining the ranks of Kate Upton and
Kim Kardashian
, who have successful mobile games of their own, Mr Rumsfeld has collaborated with a dev shop to resurrect the type of card play that Winston Churchill apparently used to spend time on during the Second World War.
Handily called Churchill Solitaire, the time-waster features intros and audio cuts by Churchill himself, and offers several levels of difficulty. You can play random dealings or more than 200 campaign-style deals, and climb up the ranks from a Sandhurst Cadet all the way to a Prime Minister boss level. The title's actual developer, WSC Solitaire, has some experience with this card game category, as can be easily deduced by the name, so you can rest assured that the graphics and gameplay are well taken care of.
Donald Rumsfeld is actually on a media tour now, promoting his newest mobile app conquest, and landed in Stephen Colbert's "Late Show," where the conversation about Churchill Solitaire took a not-so-surprising turn towards the war in Iraq. Long story short, we now have another memorable quote from the SecDef himself, at the 7:25 mark in the video below: "
If it were a fact, it wouldn't be called Intelligence
." Yes, this happened. Now soothe yourself with some Churchill Solitaire.
Developer

: WSC Solitaire

Download

: iOS

Category

: Games

Price

: Free to play, in-app purchases