Watch out, Kim Kardashian's game is taking over mobile
27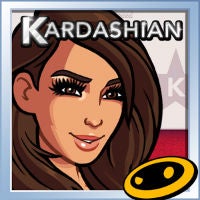 You know how we're always saying here that our readership at PhoneArena is in the minority and doesn't represent the average mobile user? There is no story that illustrates this more perfectly than this one, because we're pretty sure that very few, if any of you in our audience have downloaded and played the Kim Kardashian: Hollywood Life game, and yet, the game has become a phenomenon.
The game itself is as inane as you would expect from a product bearing the Kardashian brand. You create an avatar and work your way up the Hollywood social ladder as an actor, cover model, fashion designer and more. You get to dress up your character and date celebs on your way to stardom, and Kim herself is your life coach. Essentially, the game is targeted at teenage girls, and has no point other than to teach those girls that looking pretty and being with the right guy are more important than what you do (a lesson ripped straight from Kim's life apparently). The game is free-to-play, but of course there is an in-app payment system to speed up your progress, and those in-app payments have become huge.
The game was released on June 25th, and in less than 3 weeks it has rocketed up the Google Play and iOS App Store charts. It currently sits at number 3 on the iTunes Top Free Apps list, and is listed in Google Play's Top Free Apps and Top Free Games (Play doesn't do ranking lists like iTunes). The game has an insane 5-star rating on iOS with almost 90,000 reviews, and it has a 4-star rating (out of 5) on Google Play with over 111,000 reviews. It can be found in the top 10 in the App Store in 31 countries.
Even more amazing are the stats related to money. Since the game's release, publisher Glu Mobile's stock has jumped considerably. On June 24th, Glu stock closed at $3.78; today, it closed at $6.38, and it looks like it will continue to rise. This has led to Glu Mobile's market cap rising from $313 million to $519 million in that same time span. Additionally, there are estimates that the game itself could earn as much as $200 million in revenue by the end of the year.
There appears to be no stopping this game or the Kardashian brand in general. We don't approve of it, but we sure do wish we had purchased a whole mess of Glu stock three weeks ago.