Does Marcelo Claure's tweet to John Legere hint at an upcoming merger?
7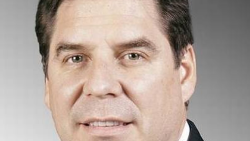 Is it possible that the icy relationship between T-Mobile CEO John Legere and Sprint CEO Marcelo Claure is defrosting? As recently as January, Legere took Claure to task for laughing (via a tweet) at a joke made by Chelsea Handler
about a woman who drove her car into a T-Mobile store in Florida
. The woman was told that she could not get a free replacement for a damaged iPhone. As Legere noted in a tweet to Claure, "many lives were endangered & it was a criminal act. It's actually not funny."
But it seems as though there has been a change, at least on Claure's part. On Thursday morning,
T-Mobile released an exceptionally strong earnings report
. Based on the numbers, the nation's third largest carrier will be responsible for all of the industry's growth in net new postpaid phone subscribers for the three-month period. Yesterday, Claure disseminated a tweet in which he congratulated both Legere and T-Mobile "for a great quarter."
Could Claure's friendly tweet have something to do with an increasing possibility that T-Mobile and Sprint are going to get together at last? The most recent news about a marriage between the two carriers came back in June. Last month,
talks between Sprint and T-Mobile were reportedly put on hold
so that Sprint could hold exclusive talks with Comcast. But since that report was unverified, we really don't know what is going on behind the scenes. But what we can see is that Sprint's CEO is acting more friendly to T-Mobile's CEO and that is more legitimate than rumors from an anonymous source.
It might mean absolutely nothing, or it could be a sign that T-Mobile and Sprint are ready, willing and able to get together. Just keep in mind that with a majority stake in T-Mobile, Deutsche Telekom will be making any final decision on that carrier's part while SoftBank will be doing the same for Sprint.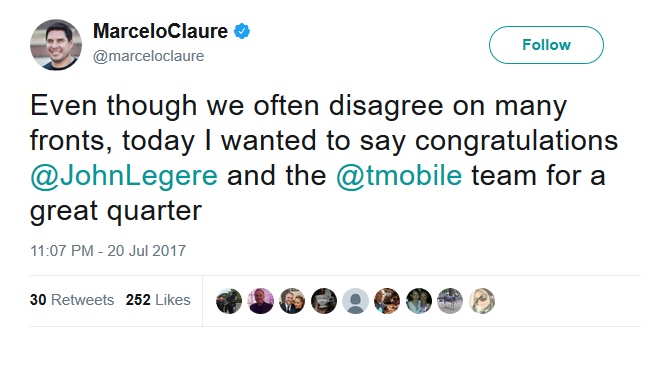 Sprint CEO Marcelo Claure praises T-Mobile and its CEO John Legere for releasing an amazing earnings report
source:
@MarceloClaure