Do you recall when the Samsung Instinct challenged the Apple iPhone in these ads?
90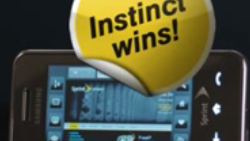 In the Winter of 2007, once it became apparent that the
Apple iPhone
was a hit for AT&T, carriers like Verizon, Sprint and T-Mobile were desperate to have an iPhone challenger with a touch-screen in their lineup. These so-called iPhone killers included some featurephones that were stuffed with things like an HTTP browser, live television, and in the case of the
LG Voyager
, a QWERTY keyboard.
The following Summer, on June 20th, 2008, Sprint released another feature-packed handset that was given the task of killing the iPhone. The
Samsung Instinct
was a Sprint exclusive, and in a series of ads, the Instinct became the first of the iPhone challengers that actually mentioned and displayed the iPhone in its advertisements. The commercials listed features that the Instinct had and the iPhone didn't, paving the way for Motorola's much fiercer "iDon't" attack with the
Motorola DROID
a year later.
Sprint and Samsung caught a huge break with some of the Instinct ads. Because the spots were filmed just before the release of the
Apple iPhone 3G
, the Instinct was being compared to the much slower first-generation iPhone running on EDGE. In one ad, the Instinct and the iPhone race to see which phone will open a website first. After the Instinct won, the fine print at the bottom of the screen explained why: the Instinct was using Sprint's network running broadband speed while the iPhone was using AT&T's EDGE. Not much of a fair fight.
Regardless, Sprint and Samsung poured plenty of money into promoting the device which featured a 3.1-inch screen with a 240 x 432 resolution. Sprint and Samsung offered a second 1000mAh battery in the box along with a charger that could power up both batteries at the same time,. That might have snagged some power users put off by the sealed battery on Apple's smartphone.
Even with all of the promotional spending by Samsung and Sprint, the Instinct never did kill off the iPhone, of course. In fact, it had a strong challenger itself in Verizon's
LG Dare
. But that's another story for another day,
Check out some of the ads used by Samsung and Sprint to promote the Instinct, including the spots where the device goes toe-to-toe with the iPhone, by clicking on the video slideshow below.