Ditch your PC: here are 5 tablets that you can actually do some work on
31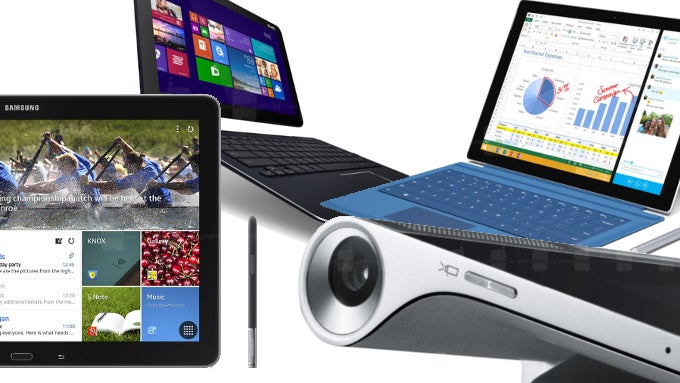 Tablets have been having a tough time as of late. When they first came to be, everybody either wanted one, or carried one in their bags at all times, using them to view social media, websites, movies, and documents. But, with the large-screen smartphones rising to prominence, the slates that optimists once said would bring the death of PC were revealed to be nothing but media consuming devices. Handsets took away the tablets' web-viewing functions and they were pushed on the background as nothing but bedroom screens to watch videos on. As a result, users barely feel the need to refresh their smartphones as often as they do their tablets, and this has resulted in manufacturers dropping them off the priority projects list – or at least that's the conclusion one can come to when looking back on the lack of new slates in Q1 2015.
But not all tablets are just one-trick ponies, and not all manufacturers have given up on trying to make them productive machines. In fact, there are a few quite potent devices out there, which one can use for a specific purpose, and get some work done outside of the office. They are portable and they run just about any software one might need for basic tasks – any fine-tuning can easily be done later, when the user has access to a powerful PC.
So, let's check out 5 tablets that are made with work and productivity in mind!
Of course, we start the list with the most obvious choice – the Surface Pro 3 runs full-blown Windows 8.1 Pro and comes with its own stylus for accurate screen taps and sketching. As it is, it's a good choice for architects, designers, or artists, especially if they often find themselves showing their work when meeting with clients. A keyboard cover can be bought as a separate purchase, turning the Surface Pro 3 into a laptop, which Microsoft markets as a clear MacBook Air rival.
The Surface Pro 3 has a 2160 x 1440 resolution stretched across its 12" screen, and comes in a variety of hardware options, ranging from Intel i3 to Intel i7 as a CPU, 64 GB to 256 GB of internal storage, and 4 GB to 8 GB of RAM.
With its proprietary S-Pen on board, the Note Pro 12.2 is another good choice for designers and artists. Its gigantic (for a tablet) screen makes it good for sharing images during project discussions, or any other application which may require an individual to view it from a distance or angle. Yet, it's still a tablet, so it's portable enough to lug around without much trouble.
The Galaxy Note Pro 12.2 sports a 2560 x 1600 resolution, a Snapdragon 800 SoC and 64 GB of expandable storage. Other variants have the Samsung-made Exynos SoC and 32 GB of storage.
The Lenovo Yoga Tablet 2 10-inch (Windows) comes with a Bluetooth keyboard in the box and runs a full-blown Windows 8.1. This makes it a great tablet for number crunchers and other individuals who primarily deal with document creation, viewing, and editing.
If you find yourself to often be in the position of a presenter, the Yoga Tablet 2 Pro wields a built-in projector and may be the better choice. As a trade-off, it rocks Android 4.4 KitKat and doesn't have a keyboard in the package, so it won't be as good with document editing – at least not from the box.
The Lenovo Yoga Tablet 2 10-inch (Windows) has a 1920 x 1200 resolution, quad-core, 64-bi Intel Atom Z3745 processor, 2 GB of RAM, and 32 GB of expandable storage. Its projector-toting sibling, the Yoga Tablet 2 Pro, rocks the very same hardware
A transformer for sure, the Windows 8.1-wielding T300 Chi comes with a detachable keyboard and can alternate between a laptop and a tablet at will. Considering that its configurations allow for up to 8 GB of RAM, this could be quite a potent tool for any professional who often finds themselves on the move.
Aside from the generous RAM, the Transformer Book T300 Chi has a 12.5" screen glowing with a 2560 x 1440 pixel resolution, an Intel Core M-5Y71 64-bit, dual-core processor, and 128 GB of expandable storage.
Apple's flagship tablet isn't a device one would call a substitute for a PC, but that's in the context of documents. iOS is, however, still the mobile operating system, which handles real-time audio processing the best. While any of that work is best done on a computer, a lot of musicians have used the plethora of apps available in the App Store to compose, record, produce, or at the very least – just jam along with their iPads.
The iPad Air 2 rocks a triple-core, 64-bit Cyclone SoC and 2 GB of RAM. Its 9.7-inch screen glows with a 1536 x 2048 pixel resolution.