Display mirroring on first-gen iPad? Here's how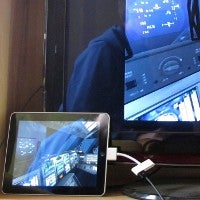 Apple introduced the second-gen iPadwith an HDMI connector allowing you to easily mirror what you see on thetablet to an HD TV, but is this possible on the original iPad? Turnsout, it's not only the iPad, but the iPhone 4 as well as 4th-gen iPodtouch that support system-wide mirroring and it only takes a jailbroken iDevice and either Apple's Digital AVAdapter or VGA adapter.
The first step on your way to mirroringcontent is an update to the latest iOS 4.3.1. You'll need to jailbreak your device, but if jailbreak sounds scary to you, don't hesitate to visit our step-by-step instruction here, which should address all your questions.
Secondly, you need to modify settingsin the Springboard app, responsible for managingyour home screen. Using SSH, go to:
system/library/coreservices/springboard.app/
Finally, a word of caution comes from users who have reported that thehack won't work with Apple's Composite or Component cables. Except for that, mirroring seems to work flawlessly. Check out the video below to see content from the first-gen iPad mirrored directly to an HD TV. With so few applications optimized for the dual-core powers of the newest iPad, you might just have found one more reason to stick to your good ol' tablet, haven't you?

source: Nature's Eye Studios
Thanks, Philip!