Dim the lights and here we go: Seacrest's Typo Keyboard coming to 2014 CES
10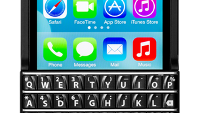 American Idol
host Ryan Seacrest is one of the hardest working guys in the business of show. Besides his hosting duties on Idol, Seacrest hosts a daily radio show and produces various television and radio programs. In many ways, he is the modern day Dick Clark. Seacrest is also an investor, and combined with a business partner, together they sank $1 million into a company that invented a physical QWERTY for the Apple iPhone. The two are expected to end up investing more than $5 million in the project.
The idea for the Typo Keyboard came as Seacrest was getting used to carrying around two phones. He used one handset for email, messaging and for creating written correspondence. This model was equipped with a physical QWERTY keyboard for easy typing. The second handset was an Apple iPhone which Seacrest was using for everything else. And the personable Seacrest wasn't the only one doing this. One night at dinner, between Seacrest and his guest, Laurence Hallier (CEO of Show Media), they had four phones on the table for just two people.
From this experience, Seacrest helped co-found the company that took two years to produce the Typo keyboard, which will be ready to debut at the 2014 CES show in Las Vegas.The QWERTY is built into a case which will be available first for the
Apple iPhone 5
and
Apple iPhone 5s
. Typo will later be produced for other smartphone and tablet models. According to the Typo website, users can type 50% faster. The auto-correct will quickly fix your typing mistakes and there is quick access to currency keys. The backlit keyboard lets you type accurately in low light conditions.
While the Typo will be displayed at CES, it can be pre-ordered now from the Typo website for $99. The QWERTY case will be shipped out sometime next month. And if Typo becomes successful and Seacrest adds to his pot of gold, it will be the first time in history that someone profited from a Typo.
source:
Typo
via
AllThingsD