Did you know that LG had a modular phone before the LG G5?
18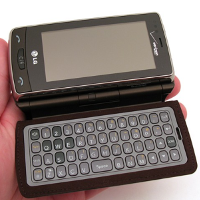 Many consumers, members of the media and even phone fanatics are looking at the
LG G5
as though it were the first handset to come from LG with a modular design. We will let you in on a little secret;
LG had an earlier handset with a modular design. More on this later. Let's talk first about the modular features on the LG G5.
With the LG G5's "Friends,"
you can improve the camera using the
LG Cam Pro
. This turns your phone into a DSLR camera with a shutter button, an improved grip and 1200mAh of additional battery life.
Another pal, the
LG Hi-Fi Plus with B&O Play,
will jack up the audio on the phone. There are other Friends including the
LG 360 Cam
, the
LG Tone Platinum
headset, and the
LG Rolling Bot
.
Not all of them are available everywhere
, and some of them have yet to launch.
As we said, the LG G5 is not the manufacturer's first modular handset. Back on March 1st, 2009,
the LG Versa was launched as an exclusive for Verizon
. The featurephone had a resemblance to the
LG Dare
, but with a major difference; various modular accessories could be added to the phone. One such option was the physical QWERTY keyboard that came with the handset out of the box. It was attached to the
LG Versa
by using the docking system found on the rear of the phone once the battery cover was removed. The front had a small 56x120 pixel blue OLED screen that revealed signal strength, battery status and more, foreshadowing some of today's high-end cases for flagship phones.
There were other modular accessories produced for the device. One for gamers that included
an 8-way d-pad and four controller buttons
, went on sale for $29.99. One that was supposed to offered enhanced audio never was produced.
Move ahead seven years, and LG has taken the modular concept, improved it greatly, and made it a core feature for the LG G5.