Did you know that Android had time-lapse video mode before the iPhone 6 made it cool?
50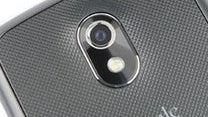 By now you should know that the
iPhone 6
comes with an upgraded camera. Hardware improvements allow it to focus faster on its subject and to shoot better images even in low light. In addition, the software's capabilities have been expanded with a few new extras and modes. Among them is the
fancy time-lapse video mode
, which has been enjoying quite some attention lately.
For those not familiar with time-lapse videos, imagine fast-forwarding a movie the old-fashioned way - everything moves at several times its normal pace. On a phone, these videos are made by the camera taking a single frame every few seconds and then the software blending them all in a contiguous stream. The produced footage allows us to see events around us from a different perspective - events like the movement of the clouds in the sky or the rise of the sun in the morning.
So yeah, time-lapse videos can be pretty cool, and they're about to rise in popularity now that the iPhone 6 has the feature baked into its camera app. However, did you know that Android had the mode three years ago? Time-lapse video mode was available in the stock camera app of the
Samsung Galaxy Nexus
- the first phone to run Android 4.0 Ice Cream Sandwich. Sure, the video didn't have an iPhone-like cinematic stabilization (which looks impressive, by the way), but it was a good way of showing off the capabilities of the phone and its camera.
Unfortunately, the time-lapse video mode got dropped with the transition of Android to the Google Camera application. This, however, can't stop you from getting an app for the purpose, and if you have a recent Samsung Galaxy smartphone, you may have time-lapse mode built into its Camera app, labeled as "Fast Motion".
If you want to take some pretty time-lapse videos using an Android phone, our
time-lapse Android guide
might help.