How to record time-lapse videos on Android
15
Time-lapse videos are the type of artistic recordings that make you stop and think about the beauties of life that we often don't notice - the slow movement of clouds in the sky, or the way our planet rotates in the vastness of space, surrounded by countless stars. But did you know that you could create such time-lapse videos on your Android smartphone or tablet?
Time-lapse functionality is not baked in the stock Google camera app (it appeared in it for a very short time, and may come back in the future, but it is not available at the time of this writing), so you'd need another solution.
Luckily, there are a couple of ways to shoot great-looking time-lapse videos. We'll start off with a free app that gets the job done, and has passed the test of time.
1. Droid Timelapse
Price: Free
Download on
Android
This free app comes with the single purpose of recording time-lapse videos on Android devices, and it has no ads. It supports the highest resolution of your camera (up to 1080p), has a recording delay timer, so you can control the speed of your time-lapse and the resulting video is of high MP4 quality.
You also have both manual and auto-focusing modes, as well as the option to fine-tune white balance and color effects.
The second app is a bit more advanced, and it comes with an even higher rating on the Google Play Store, but you'd need to pay for it.
2. Lapse It
Price: $1.99
Download on
Android
Lapse It supports the maximum resolution of your camera, and allows you to mash up your time-lapse video with any song from your library as a sound track. It can brag with a good-looking UI, a fast rendering engine, custom frame rates, filters effects, and even a bonus stop-motion mode.
It has advanced options like reverse time, a video trimmer, the capability to export to MP4, MOV and FLV, and it can also upload your video directly to YouTube, or other services.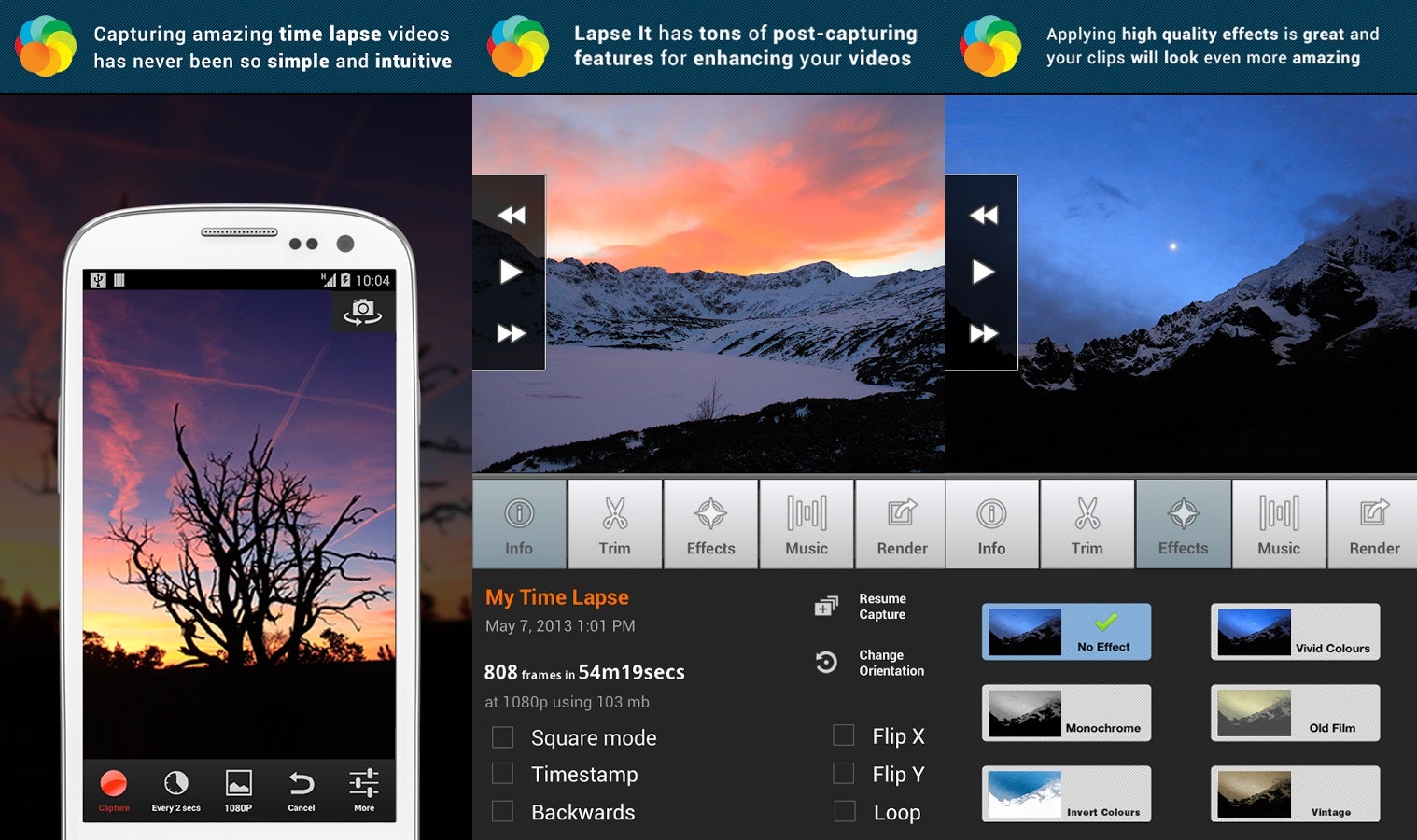 Note:

Time-lapse recording quality depends on your smartphone and to get the maximum (1080p Full HD quality for these apps) you'd need to use a smartphone with a camera that supports this high resolution like the Samsung Galaxy S5, Galaxy S4, Galaxy Note 3, LG G3, LG G2, Sony Xperia Z2, Z1, HTC One (M8), etc.
Recommended Stories