Did Motorola jump the gun on DROID update?
This article contains unofficial information.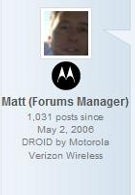 According to Matt, the manager of the forums at Motorola, when it comes to the Android
2.1
update for the DROID, the company was as premature as Cuddy's boyfriend Lucas on last Monday night's House. The entire list of changes that Android 2.1 was going to bring to Motorola's flagship phone is now gone-vanished as if repossessed by the bank. What does this all mean? The optimistic will say that the list left out a few items so it had to be taken down especially since the upgrade will be coming tonight at midnight or early tomorrow. The most pessimistic say that Motorola was off by weeks and that Verizon needs to do a lot more testing before DROID users are pinching away on the browser. And speaking of Verizon, Big Red's silence on this matter is making things more unclear. It should also be pointed out that any reference to the 2.1 upgrade was deleted from Motorola's web site and links to the forum are also gone. The truth is out there and as soon as we find out what the truth is here, we will pass it along.
Motorola DROID Specifications |
Review
source:
MotorolaSupportForum
via
BGR