Developer's story: 13 years old, 20 Windows Phone apps
17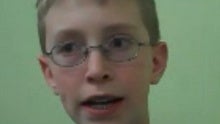 At 13 years old, you've probably already done many things, but you most probably haven't developed nearly
20 apps for Windows Phone 7
. That is, unless your name is Johnny Simmons, aka developer-in-chief at SimzzDev. The thirteen-year-old not only managed to write the code and publish the apps, but also
nailed the first
prize at a Windows Phone Unleashed event with his Signature application.
Here's a brief summary of the career of Mr. Simmons:
- Started 9 months ago
- Learned by watching videos online
- Initially developed games, drawing applications
If that's not enough of an inspirational story, you could check out the video below where Bruce Kyle from Microsoft interviews the young developer who did all the research about his coding by himself. To try some of his creations on your handset, you could just type in SimzzDev in the Marketplace. Now, it seems eight-grader Robert Nay, who built an app climbing to
number one in the free apps on Apple's App Store
, finally got some serious competition.
source:
MSDN
Recommended Stories