Demo Video of BlackBerry 10 surfaces; RIM shares drop to new 52 week low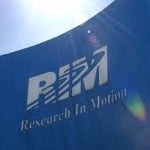 A video obtained by
Berry Review
appears to be a
demo video for the upcoming BlackBerry 10 OS
. The title of the clip, BB QNX 2.0 Preview 1, would seem to label the video as being somewhat dated. Still, the date of the video is May 29th. The UI doesn't exactly match with the videos of the new OS that
RIM released during BlackBerry World Conference earlier this month
. The video contains all of 40 seconds of BB10, but if legit, still offers an interesting look at what RIM is thinking of doing.
While BlackBerry 10 is rumored to debut later this year
in a handset expected to be named the BlackBerry Colt 2
, some might question whether or not there will
even be an independent RIM by the end of the year
. After
warning of a terrible Q1 earnings report upcoming
, the stock of the Canadian handset manufacturer set a 52 week low at $10.01 on Wednesday morning before rebounding a little. The 52 week high is $42.50. Surely there are some bargain hunters picking up the stock and some short covering also is generating some support, but RIM is a long way from the $140 that the stock once commanded.
pay for a waning connection to business users
? The writing, in the form of a sliding stock price, is on the wall.
source:
BerryReview
,
YahooFinance