Dell's leaked roadmap also mentions some upcoming Android & Windows tablets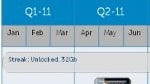 From the way things are shaping out, it seems as though that it's full steam ahead for Dell. We already have seen
some of the goodies in store for the smartphone market
, but now we're getting a peek at what they've got planned for tablets. Yet again, we find another leaked slide that shows off Dell's tablet roadmap – which interestingly mentions some stuff going for 2012 as well.
Although there isn't as much detail in this slide versus what we saw with their smartphone roadmap, it does give us a general time line on when we should expect these tablets. First and foremost, the
Dell Gallo
appears to be the newest member of their Android tablet family to run Honeycomb – with an expected arrival some time in
April
. Additionally, it's set to receive some sort of "
Handwriting
" update in Q4.
Secondly, it's going to be followed by the
Dell Sterling
, also running Android Honeycomb, which will be launching around
Q4 2011
. And finally, we're finding that the
Dell Opus One and Silver Oak
will be Honeycomb tablets that will come around early next year – but it's hard to fathom them running Honeycomb at that point.
And if you've managed to pick up the Dell Streak 7 of late, don't think that you're simply going to be set aside because of these new tablets. In fact, the Dell Streak 7 is positioned to receive some sort of update in Q3 – but there is no specific regarding its content.
Not to be outdone, we also find the
Dell Rosemount
which will be a Windows 7 tablet that packs a
resolution of 1366 x 768
. Based on the roadmap, this one will be arriving around the end of
Q2
. Last, but certainly not least, we have the
Dell Peju penned as being a Windows 8 tablet
that will be arriving next year.
source:
Android Central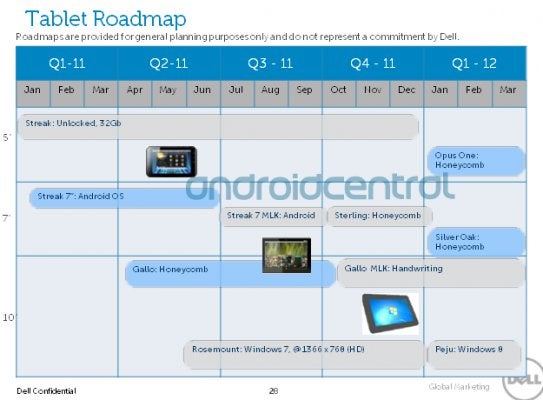 Recommended Stories