Dell Thunder Android-running prototypes get the hands-on, casing looks great and the specs are Snapdragon
2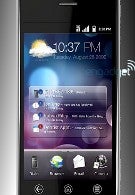 We saw
a few pictures and video
of the upcoming Android-based Dell Thunder the other day, and now it has received a hands-on preview of two early prototypes dated from April this year. The main design take from the physical exam is that the handset stays with the same classy chromed sides, soft-touch plastic and curved front glass we saw before, and liked.
The prototypes were having the 4.1" screen space occupied by regular LCD screens, one with 480x800 resolution and the other with something in the realms of 768x1280 pixels, which, if materialized in a production phone, will be more than the
iPhone 4
's Retina Display in
pixel
density. Our napkin calculations came up with 364ppi density, while the iPhone 4 has 326ppi. Take those densities with a grain of salt, though, we don't know what the production units will ship with. The screen was rumored to be OLED all along, and these on the prototypes look vanilla LCDs, but who knows, it might be exactly DELL stunning the world in that regard. Hope is what keeps us ticking.
Other than the screen, the rest of the rumored specs are confirmed from the prototypes – 1GHz Snapdragon chipset and 8MP camera with LED flash, no front-facing cam for now. The previewers found one of the prototypes to be of AWS frequency, which means T-Mobile might be getting the Thunder besides the originally cited AT&T. They also shot a wild guess that it might appear on Verizon or Sprint due to a software they found on one of the devices, called Qualcomm CDMA Programming. We wouldn't be so sure about it based on that nugget, as the name of the company branch is Qualcomm CDMA Technologies, and
Snapdragon is Qualcomm's creation
, so it might be just its general utility software for tweaking both GSM and CDMA basebands in its Snapdragon phones.
Nevertheless, on the software front things are not getting clearer based on the two units – one had Android
2.1
, the other 1.6, but considering the rumors that the Thunder will ship with a Hulu app and Flash 10.1, the handset will probably be outed with Froyo onboard. There was no DELL overlay on top of the stock Android, so we will have to wait for the real deal to have a glimpse of the promised custom "Stage" UI.
Dell Thunder Preliminary Specifications
source:
Engadget