Deal: the cloud-centric Nextbit Robin is currently priced at just $199
10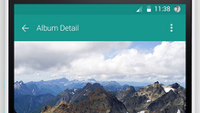 The Nextbit Robin is currently priced at just $199. The deal is good for a brand new unlocked phone.

The Nextbit Robin launched at a price of $399, but the handset's price has dropped to $299 in the meantime. This new deal, which is valid until the day after tomorrow, translates into a 33% discount.

In the official announcement of this temporary deal, Nexbit has thrown punches at both Apple and Samsung by highlighting that the Robin doesn't catch fire and comes with a headphone jack. The things we take for granted, eh?

The main highlight of the Nextbit Robin is its smart storage solution: the phone automatically juggles files and apps between internal and cloud storage to make sure that your most important files are stored locally while also ensuring that the remaining data is safely stored in the cloud.

Spec-wise, the Nextbit Robin comes with a 5.2-inch display running at 1080 by 1920 pixels, Qualcomm Snapdragon 808 chipset with a hexa-core CPU, 3GB of RAM, 32GB of integrated storage space, a 13MP primary camera on the back, a 5MP selfie shooter on the front, as well as a 2680mAh battery. On the software side of things, the Robin runs Android 6.0 Marshmallow. If you're interested in getting the Robin at this discounted price, here are more details about the phone:
What do you guys make of this deal? Can you think of a better phone that doesn't break the $200 price barrier?