Nextbit Robin hands-on
18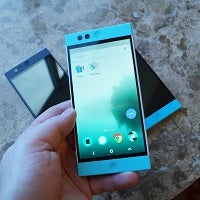 If you, or anyone you know, has ever owned an 8GB or 16GB smartphone with no, or limited, expandable storage, then chances are you are familiar with warnings that storage on the device is full at some point.
Even when leveraging cloud back-ups, there really are limits to what you can to do alleviate the problem – delete photos, other media, and apps. That last item is going to be more relevant with regards to space in the near future as operating systems and hardware accommodate more and more complex solutions. App sizes measured in multiple-gigabytes are not too far away, making smartphone storage a premium concern.
Enter the Robin, by Nextbit, the first smartphone that takes a cloud-first solution to help a user manage storage with minimal input or effort. The intended result being, your device will never run out of on-board storage.
Design
Aside from the Robin's cloud-centric mission, the physical design of the device is arguably one of the more striking features. Its polycarbonate body has flat sides, round buttons, round speakers, and round sensors. Everything has a matte finish which lends a modern look, and "soft-ish" feel in the hand. The Nextbit Robin feels pretty lightweight, but that does not make it feel cheap. The volume rockers and fingerprint sensor/power button are placed in easy-to-reach locations.
Display
Showing off the attractive Nextbit OS flavor of Android 6.0 is a 5.2-inch IPS LCD display. For a screen this size, the 1080p resolution is more than adequate. The panel itself is responsive to input, and it renders the Nextbit skin of pastel-esque colors nicely. Viewing angles on the units we saw look nice.
Cameras
The main camera on the Next Robin is a 13-megapixel sensor with a dual-LED flash. The interface for the camera follows the simple layout found in stock Android, but with the Nextbit OS flavor. The front-facing camera is 5-megapixels, up to the task for selfies and video chatting. Features like mechanical optical image stabilization are not present, but until we get to check out a final unit, we will not presume anything about image quality.
Processor and memory
Running the show is Qualcomm's venerable hexa-core Snapdragon CPU with 3GB of RAM and 32GB of on-board storage. One of the tricks up Robin's sleeve is 100GB of off-board, cloud-based storage, essentially giving the device 132GB of total available storage. How that storage is managed is simple, and requires little input from the user. All back-ups are made over Wi-Fi, unless the user selects the function to use the cellular network as well.
If storage usage climbs to within 1.5GB of capacity, Nextbit OS offloads the most unused applications to the cloud to free up space. Those apps retain their log-in credentials (if applicable) on the device, and the icon turns into what Nextbit calls a "shadow icon." To further abate storage consumption, when you take a picture, the original resolution image is backed-up while retaining a smaller 1080x1920 resolution image on Robin.
If there is an application you use infrequently, but want to always have available, you can pin the app to the device. To reinstall an app that has been backed up, simply select the shadow icon and it will reinstall itself.
Interface and functionality
Nextbit's take on Android 6.0 Marshmallow is simply called Nextbit OS. The user experience is smooth, and the interface has a stock feel to it, but there have been significant changes made to Android overall. For one, widgets exist on a separate layer of the UI now, not on the home screens. To view them, you can pinch the screen or hold the app-switching soft-key.
Ever present on the home screens is an on-screen button that enables you to organize your apps, as well as view apps that have been archived or pinned on Robin.
The user interface is attractive, and fits the design motive of the hardware perfectly. The colors of the hardware, and hues of Nextbit OS complement each other well. All the other functionality of Android and Google Play services are available.
Pricing, release date, and expectations
The Nextbit Robin is available to pre-order now for a relatively easy-to-swallow $399 plus shipping and/or VAT. Accessories, like a charger, are $10 extra (the USB Type-C cable is included with the phone). Nextbit launched a wildly successful crowdfunding campaign for the Robin last autumn, raising over $1.5 million, followed by huge demand in its pre-order campaign. Demand is so high that Nextbit announced at CES that pre-orders will stop on January 15th. Those that backed the Kickstarter campaign will have their orders fulfilled the week of February 16th. Other pre-orders will begin fulfillment immediately thereafter.
All devices set to currently ship will be unlocked GSM units. Nextbit is working on a variant that will work on Verizon or Sprint, also available for pre-order, but no ship date has been announced.
Nextbit has designed an attractive, and well-equipped smartphone. For those that pack on the applications and media, its storage management and back-up solutions are ideal. Even if you use existing solutions like Google Drive and Photos, or Microsoft's OneDrive, one can always benefit from another cloud to back things up. Even if the Nextbit Robin did not have its cloud-centric solution, it is a nice looking smartphone that has a distinctive appearance compared to most other devices out there, with current-era specifications to boot – that is no small accomplishment in the current market. Having a device that ostensibly will never have a storage problem, that is a pretty big deal too.