Deal alert: over 400 games discounted in Because We May sale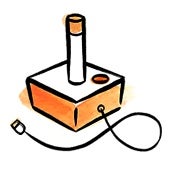 Looking for a
great deal on apps
? Look no further. This one slashes the price on over 400 games including tens of titles for Android, the iPhone and iPad, and by participating you will endorse a world of free app stores, in a sense that they don't regulate pricing for developers.
It seems that developers appreciated this and to help spread the message and show their appreciation, they have discounted some of the most popular titles on Android and iOS.
Here's just a few of the titles receiving a price cut:
Osmos for iPad, down to $1.99 from $4.99,
World of Goo HD, down to $1.99 from $4.99,
Samurai II Vengeance, down to $0.99 from $2.99,
Smuggle Truck for Android, down to $1.99 from $3.99,
Zen Bound 2 for Android, down to $0.99 from $2.99.
The selection is huge and is growing very, very quickly. The whole promo runs from May 24th to June 1st, so you'd better hurry up with the downloading. You will see the full list of games by hitting the source link below.