Deal: get the best low-cost Bluetooth earphones, Anker's SoundBuds Slim+, for just $22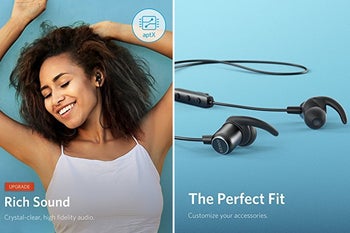 Everyone's favorite value for money accessory maker, Anker, has sweet, sweet deal on its popular SoundBuds line of Bluetooth earphones. The original one got upgraded to a SoundBuds Slim+ level with water-resistant rating, and that's precisely the variation that is on sale now.
Let's face it, truly wireless buds are awesome and good-looking, but they still can't hold water to corded ones when it comes to battery life and convenience. There is simply not enough place for good battery packs with truly wireless earphones, while the SoundBuds+ make the right choice, and place the battery pack in the volume adjustment cylinder on the cord itself, freeing up space to make the buds themselves ultrathin and ergonomic, hence the "Slim" moniker.
FreeBuds
, which promise ten hours on a charge, but these are still not on sale, and, besides, we'd have to test that claim to believe it. Furthermore, the sound is surprisingly good for such an affordable kit, better than what the other low-cost champ, the Aukey Latitude EP-B40 offers, especially in the bass department.
When we add the water-tight rating of the new Slim+ model, and the fact that you can now get them for just $22, makes them a no-brainer for everyone who wants to listen wirelessly on a very tight budget. Don't get scared by Amazon's bait-y official pricing, just keep calm and apply coupon code LGVDRPV3 in the cart, you can thank us later.