Deal: Unlocked Samsung Galaxy S6 edge can be purchased for $599
14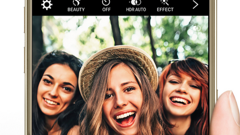 The
Galaxy S6 edge
has been a rather successful device for Samsung. So much so, in fact, that the company has
struggled to cope with the demand
at times. Whether you're a fan of Samsung products or not, it cannot be denied that the S6 edge is one of the most beautiful smartphones that the market has ever seen. But despite a strong set of features, it does have its drawbacks. If you can look past the fact that it doesn't include a microSD slot or removable battery, the price tag is, for many, a deal-breaker. If you don't wish to pony up $800+, you can save yourself over $200 on one of the most sought after gadgets in town, with the AT&T model available on eBay for $599.99.
Even at the revised price, it's still more than many other flagships on offer. But with a top-notch display, impeccable camera duo and a processor that doesn't include the number '810' anywhere, the S6 edge is much more than just a pretty face. There's talk of an
S6 edge Plus
hitting the scene at some point in the future, which may feature an even larger display than the 5.1-inch, quad-HD offering of the standard S6 edge. But the mobile industry seems to have hit something of a plateau in terms of what it can provide with each new handset, so if you do grab the S6 edge for just shy of 600 bucks, it'll tide you over for the next couple of years.
With a regular retail price of $814.99, it's a tidy little saving, and while it is the AT&T version, the handset is listed as unlocked. eBay can be a bit of a minefield at times, so with the discounted price comes that element of risk attached. But still, if $800 is too rich for your taste, have a look at this offer at the source, and let us know if you'll be getting involved via the comments.