Deal: Samsung Galaxy Tab E 9.6 drops below $200
3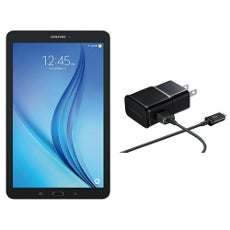 If you're looking to score yourself a new tablet with a decent-sized screen that can also be squirrelled away when necessary, the Samsung Galaxy Tab E 9.6 might just meet your requirements. The slate offers the best of both worlds with a 9.6-inch, 800 x 1280 display in a form factor that doesn't feel unwieldy. What's more, it's currently available at a discounted rate over at Amazon, with a tidy $30 saving that sneaks the price tag below the $200 threshold.
The Galaxy Tab E is not a powerhouse by any means. There's a 1.2 GHz quad-core SoC, 1.5 gigs of RAM and 16 GB of storage. It's a perfectly appropriate acquisition if you're only planning to do a spot of web browsing, reading, or running everyday applications. Additionally, even though 16 GB isn't a lot of internal ROM, the Tab E 9.6 includes a microSD slot which can hold a card of up to 256 GB in size.
The $199.99 price reflects the Wi-Fi model only. Along with the aforementioned specs, the Tab E 9.6 gets a 5-megapixel main shooter and 2-megapixel selfie camera, as well as a 5000 mAh battery. For an extra $6 or so, the device can also be shipped with either a protective sleeve or extra travel charger.