Deal: LG G6 (64 GB international model) now costs just $410
21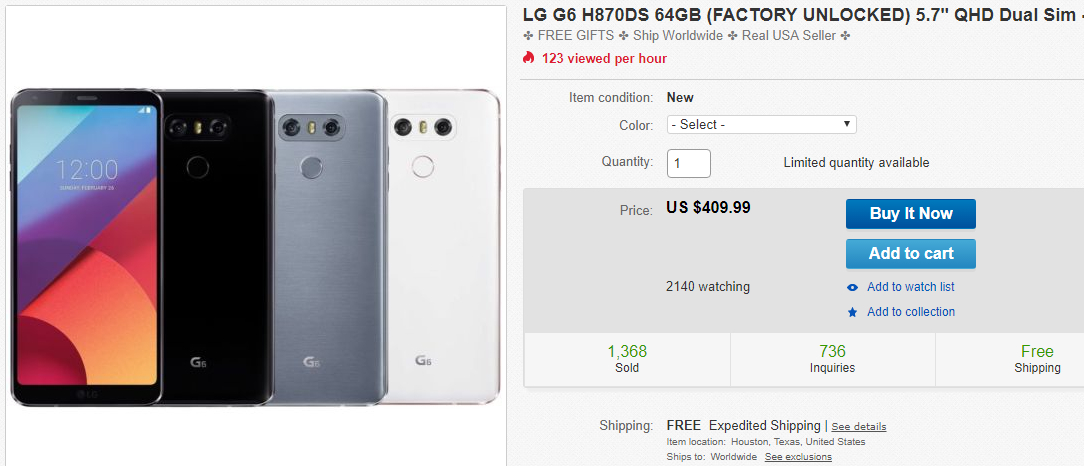 If you're looking for a new high-end Android phone, but you don't want to spend too much on it, there's a deal for you over at eBay: a brand new, fully unlocked
LG G6
now costs only $409.99 - that's almost $200 less than the phone's official price in the US.
We must mention that the G6 that's sold for $409.99 is the international variant of the handset, so it does not come with US warranty. Moreover, the smartphone will only work on carriers like AT&T and T-Mobile, being incompatible with CDMA networks like Verizon and Sprint. Still, this model has a couple of advantages over the US one, as it offers 64 GB of internal memory (instead of 32 GB), and supports two SIM cards at the same time.
The $410 LG G6 ships from Houston, Texas, and comes from a top-rated eBay seller. Quantities are limited, as you can see for yourself at the source link below, so you might want to hurry up if you think this is a good way to spend a little over four Benjamins.
source:
eBay