Deadheads: Infected is a cool-looking, competitive, survival-based FPS and it's coming to iOS soon
3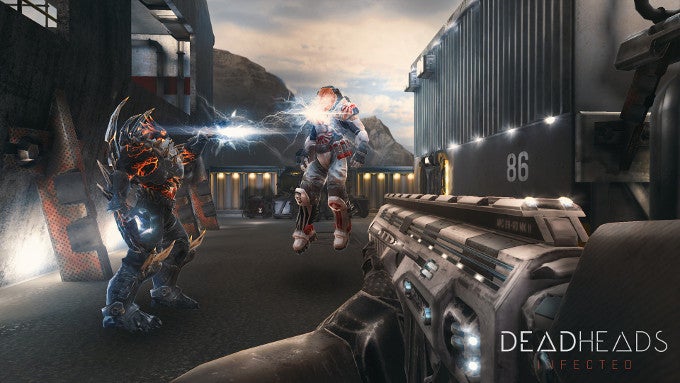 In the land of mobile games, we rarely see a title that manages to strike a hardcore nerve in the gamer part of our minds. Don't get us wrong – we like to keep at least one or two entertaining apps on our smartphones and use them when time needs to get burnt, but most often than not, a game designed for mobile devices is a pretty shallow experience, and many gamers have come to expect this.
Now, there are some truly hardcore titles out there already – and by "hardcore" we mean games that require the player to invest time and effort, to learn mechanics and gather information about all aspects of gameplay, before they start getting good. One such game is the famous MOBA
Vainglory
– designed specifically to work for touch, it offers fans of the genre a pretty adequate Dota 2 or LoL alternative for mobile. Another is
Hearthstone
– Blizzard's collectible card game, which can be played cross-platform with PC, tablet, and smartphone-wielding players.
But what about FPS? The genre's best representative on both Android and iOS seems to be the Modern Combat series, though, it certainly doesn't go unchallenged. Yet, we rarely see a title that just strikes us as "yes, I will need to practice to get good at that!".
Well, Deadheads: Infected is one such game. Its main focus is asymmetrical multiplayer matches, where one team plays the "Survivors" and the other – the "Infected". As you can probably guess, the former group wields guns and can most often be found hidden in corners, weeping in fear, while the latter are huge monsters with melee-based attacks. Well, in fact, the Infected starts with just 1 player on the team, as each killed Survivor will not respawn for their team, but will turn into a monster, too.
Matches are designed to be fast and frantic, played out on small-ish maps, and with only 2 minutes on the timer. Basically, the Survivors need to run down the timer, while the Infected need to infect everybody before the 120 seconds are up. Another nice touch is that the soldiers view the game from a first person perspective, while the monsters have a 3rd person camera following them, which helps with navigation and general awareness – especially when you are expected to melee enemies.
The game is currently in soft-launch for iOS, which means that it should be available soon-ish. No word on an Android version, though, if it turns out to be somewhat successful on iOS, it's safe to assume that it will be ported to Google's platform as well. It will follow the freemium model, with the game being free to play, but weapon upgrades requiring you to caugh up some cash (or grind endlessly for in-game currency, of course).
So, we can definitely see ourselves plowing through a bunch of rounds on Deadheads – we feel like we will need a controller for our phones, though, as touch is rarely any good for shooters. How about you, gonna hunt some Infected?